---
Alaskans have relied on ENSTAR to serve their homes and businesses with cleaner burning, economical and efficient natural gas for over 60 years. ENSTAR Natural Gas Company, headquartered in Anchorage, Alaska, is a regulated public utility that delivers natural gas to more than 150,000 residential and commercial customers in 25 communities in Southcentral Alaska, a customer base that represents approximately 60% of the state's population.
—
Cook Inlet Natural Gas Storage Alaska (CINGSA) is Alaska's first commercial natural gas storage facility. It was constructed to address Southcentral Alaska's peak winter demand for natural gas delivery. CINGSA has a storage capacity of 11 billion cubic feet. Five horizontally drilled wells allow up to 150 million cubic feet of gas per day to be injected or withdrawn from the storage reservoir.
---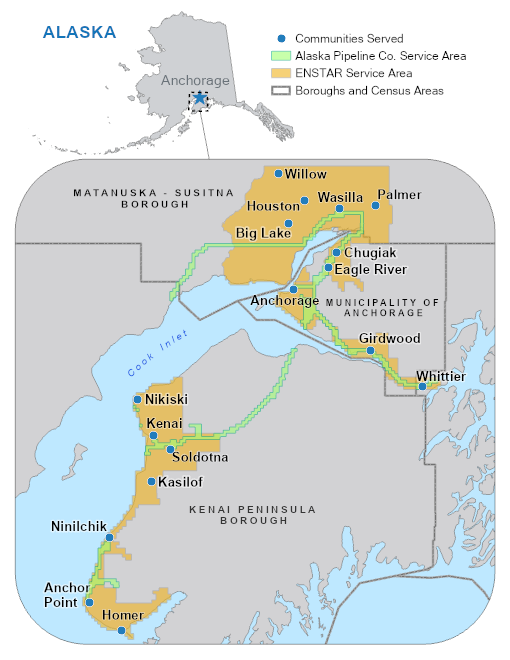 | | |
| --- | --- |
| Customers | 151,000 |
| Communities Served | 25 |
| Distribution System | 3,200 miles (5,245 km) |
Operations
ENSTAR's service area spans nearly 5,000 square kilometers and includes 711 kilometers of high-pressure transmission lines and 5,000 kilometers of distribution pipelines. Included in the transmission kilometrage are two subsea pipelines that deliver gas from the Kenai Gas Fields to Anchorage and beyond. ENSTAR delivers gas to its customers and also transports gas on behalf of area electric utilities, which use natural gas to generate more than 80% of electricity.
In total, ENSTAR delivers approximately 60 billion cubic feet (Bcf) of natural gas each year, with 33 Bcf of that gas going to ENSTAR customers.
Average winter daily demand for ENSTAR's system is around 230 million cubic feet per day (MMcf/d).